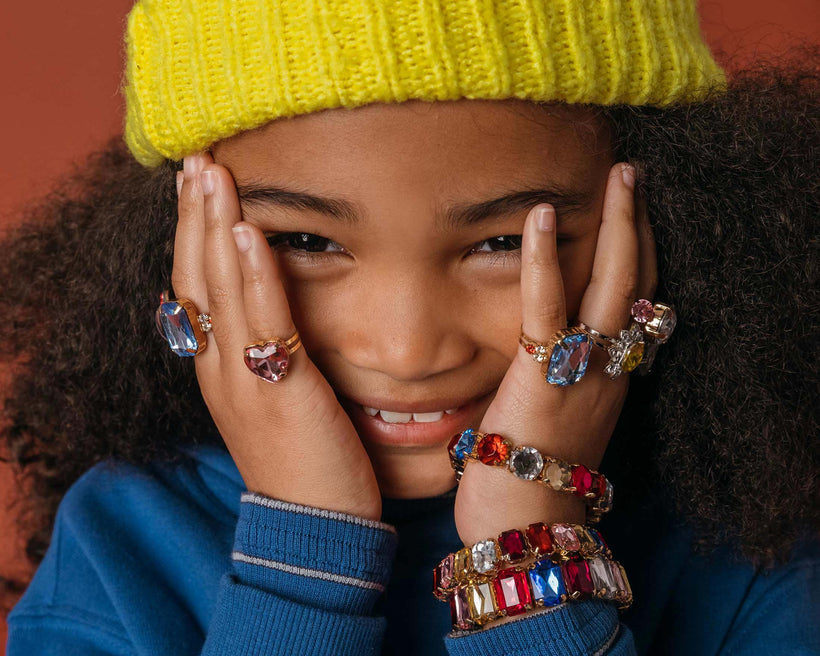 OUR STORY
Ok, you caught us! We're big-time daydreamers. In fact, that's where it all began…. Just a little daydream that went something like this: what if there was a kid's brand with the ability to brighten dreary days and make everything just a little bit more sparkly?? That sounded awesome. Could WE do it? We would try! With Super Smalls, we set out to bring this majorly magical, wonderfully weird and super sparkly vision to life. Our designs are inspired by the grown-up world of outrageous and extravagant jewels, translated to appeal to a kid's whimsical eye and withstand their active lifestyle. Super Smalls is made for play: from tree-climbing to cookie-eating contests and all the adventure in between. We see the world the way kids do - full of optimism and wonder. With tons of feel-good accessories and gifts, Super Smalls is a destination for all things joyful. We are 100% here for all the messy, exhilarating, laughter-filled, tricky and celebratory parts of being a kid. And the slimy ones! Did we say slimy?? Whenever you're in need of a little extra oomph, you can count on us to help bring out your own inner sparkle. We'd stake our (silly, fun-for-all) reputation on the fact that no one in the history of time has ever regretted adding a little sparkle and magic to their day.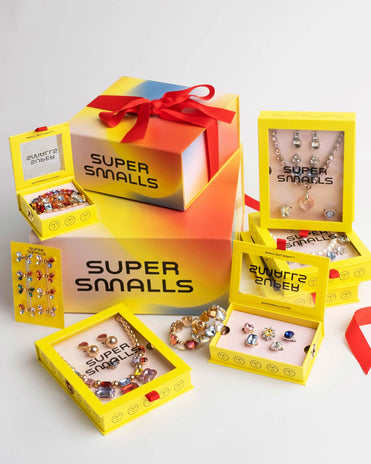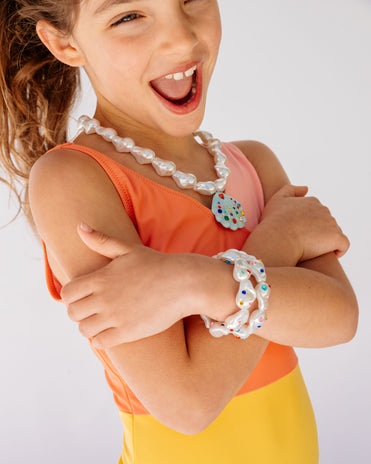 OUR GEM-COVERED JEWELS AND EXCEPTIONAL ACCESSORIES
Sometimes it's the twinkly lights on the tree or the flickering candles on the cake that take a moment to another level. That's how we think of our pieces—the "cherry (or, let's be honest, cherries) on top" that makes everything more memorable. Which is why Super Smalls makes *the best* gifts! Each detail—from our jewel-toned gems to our vibrant yellow packaging—is designed for maximum delight. Our secret to knowing what kids want? Our Kid-in-Chief, Luna—she's the mastermind behind our most creative ideas! She dreamed up the Mermaid Pool Party Necklace after collecting shells from the beach and deciding it'd be cool to have a gem-covered shell with magical powers. From her initial sketch, we made it happen. Plus, she and her sisters provide our most imaginative feedback: "More sparkles! Can you make it fly? Maybe it can become invisible! Or, it's a giant diamond that's really a lollipop you can eat!" We love to see all the unique ways Super Kids express their personal style with Super Smalls.
OUR FOUNDER
An accessories aficionado, Maria Dueñas Jacobs came from the glossy world of magazines to join the community of small but mighty entrepreneurs. She founded Super Smalls to combine her love of ornate artisan objects with her passion for all things #MomLife and kid-centric fun. With three (super) small daughters, Maria's family home is a headquarters of dress-up, make-believe, and serious laughter. Influenced by her girls' inventive dreams, fearless imaginations, and VERY honest feedback, Super Smalls was born. Our own in-house focus group, their out-there ideas and creative insights inspire all we make. No need for "borrowing" Mom's jewels when they've got their own!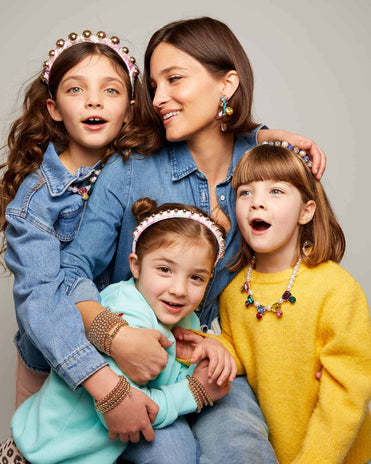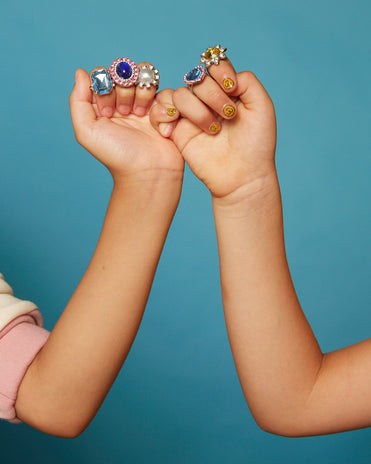 OUR COMMUNITY
We are a positive, colorful, and unabashedly authentic place where everyone is ALWAYS encouraged to be themselves! From our accessories to our crafts, our hope is to unleash self-expression, exploration, and play—allowing the super side of every kid to shine. We believe it is important to stay educated on social issues, share resources, and give back. We support causes and organizations that align with our values of building a kind, inclusive, and joyful future for kids everywhere.